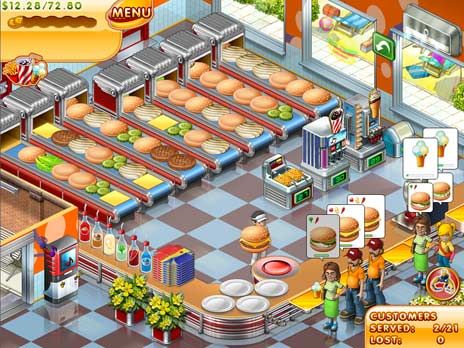 The most popular
Time Management
burger-serving game gets a much-awaited sequel! In
Stand O'Food 3
, The classic fast-paced, simple and addictive game play mechanics of the first game are reinforced with more abilities to satisfy hungry customers. Riding the wave of success in his hometown, Ronnie the Chef extends the operations of Stand O'Food chain to Tinseltown, where he meets Nikki and Mr. Clarence, and disrupts revenge plans of evil Mr. Torg. Open restaurants around Tinseltown, and serve clients fast and healthy food including fresh-made burgers, pies, lasagnas, French fries, coffee, ice cream and soda. Play over 75 levels and 12 bonus levels to unlock over 33 achievements and obtain expert status. Enjoy the storyline told through beautifully-drawn comic-style pictures.
Download and play
Stand O'Food 3
for FREE and enjoy:
75 levels in 5 settings, 12 bonus levels.
Serve burgers and lasagnas in 25 cafes around the city.
Add French fries, ice cream, coffee, and soda.
Master a total of 90 recipes with 18 special sauces.
Similar Games

Stand O'Food

Stand O'Food 2

Island Tribe 3

Turbo Subs